| | | | | |
| --- | --- | --- | --- | --- |
| Filtration Grade | CP | TU | AH | HC |
| Oil Removal, mg/m3 | n/a | 0.1 | 0.01 | 0.003 |
| Particle Removal, micron | 3.0 μ | 1.0 μ | 0.01 μ | n/a |
Series
Model
Capacity
Connection
Operating P.
Element x Q'ty
Net Weight
Nm3/min
SCFM
JAF Ported
(Grade) – 10F
1.6
56
1/2″ PT
16 barG
NF1E x 1
1.3 KG
(Grade) – 15F
2.4
84
3/4″ PT
16 barG
NF1E x 1
1.3 KG
(Grade) – 25F
3.6
127
1″ PT
16 barG
NF2E x 1
3.6 KG
(Grade) – 40F
5.5
194
1 1/2″ PT
16 barG
NF2E x 1
3.6 KG
(Grade) – 60F
8.1
285
1 1/2″ PT
16 barG
NF3E x 1
6.7 KG
(Grade) – 100F
15
529
2″ PT
16 barG
NF4E x 1
8.9 KG
(Grade) – 150F
25
882
2 1/2″ PT
16 barG
NL1E x 1
11.0 KG
JAL Flange
(Grade) – 200L
30
1059
3″ FL
10 barG
NL1E x 1
45 KG
(Grade) – 400L
60
2118
4″ FL
10 barG
NL1E x 2
70 KG
(Grade) – 700L
90
3177
6″ FL
10 barG
NL1E x 3
110 KG
(Grade) – 900L
120
4236
6″ FL
10 barG
NL1E x 4
150 KG
(Grade) – 1250L
150
5295
8″ FL
10 barG
NL1E x 5
240 KG
Customize products available upon request.
FILTER HOUSINGS SPECIFICATION
| | |
| --- | --- |
| Material | Aluminium |
| External Coating | Powder Coating |
| Max. Operating Pressure | JAF – 16 barG / JAL – 10 barG |
FILTER ELEMENT SPECIFICATION
Grade
CP
TU
AH
HC
Filtration
3.0 µ
1.0 µ
0.01 µ
n/a
Oil Contaminant Retention Down to
n/a
0.1 mg/m3
0.01 mg/m3
0.003 mg/m3
Nominal Initial Pressure Drop
0.03 mbar
0.05 mbar
0.09 mbar
0.10 mbar
Max. Operating Temp.
80 °C
60 °C
60 °C
60 °C
Filter Media Material
Cellulose
M. Glass Fibre
M. Glass Fibre
Activated Carbon
Filter Media Design
Multi Layered Pleated Design
End Cap Material
Aluminium
Support Sleeve / Core
Stainless Steel SS304 Expanded Metal
Life Time
8000 Hours
1000 Hours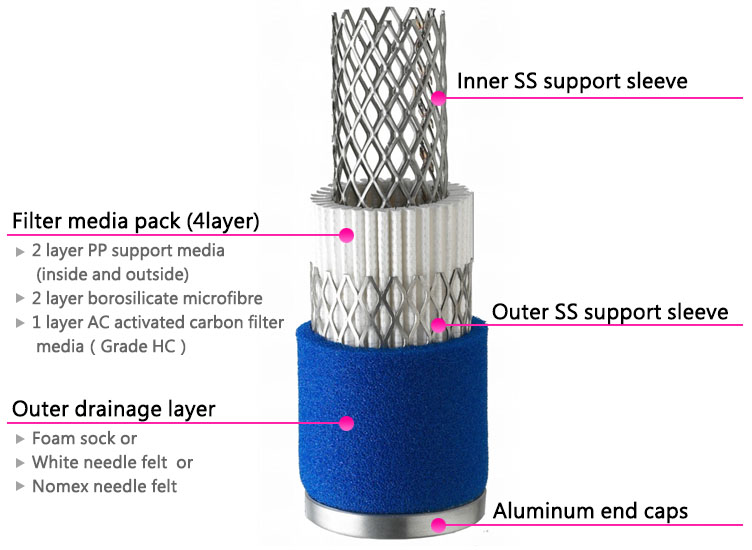 Features
Airflter Engineering Original import top quality filter element.
98% voids volume provides long life time with lowest operating cost. Pleated media provides far more Filter surface, therefore more dirt holding capacity, lower diff. pressure and lower running cost compare to conventional wrapped element designs.
A. Filter media
AFE uses high performance borosilicate micro fiber, pleated to provide the most possible filtration are within the element geometry.
B. End Cap
An O-Ring sealed Alumina End cap for the highest possible operating temperature together with tie rod construction provides highest possible security against pressure spikes In the compressed air system.
C. Stainless Steel support sleeves
Inner and outer SS support sleeves for supporting the filter media, incl. a mechanical pre- separation.
| | | | | |
| --- | --- | --- | --- | --- |
| Filtration Grade | CP | TU | AH | HC |
| Oil Removal, mg/m3 | n/a | 0.1 | 0.01 | 0.003 |
| Particle Removal, micron | 3.0 μ | 1.0 μ | 0.01 μ | n/a |